Logistics Award
"Improvement of Packaging for Large Lithium-ion Batteries"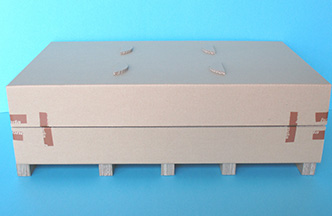 Honda Motor Co., Ltd.
Musashi Oji Container Co., Ltd.
Oji Container Co., Ltd.
Lithium-ion rechargeable batteries for repairing electric vehicles are carried to various parts of the world through various transport routes. Although we used steel case in the past, it requires long lead time and the cost was high, too. We have also been asked to step up production to meet increasing demand. To address these issues, we have developed packaging made of reinforced corrugated cardboard and have maintained a structural strength that does not fall behind that of steel cases. The changes have resulted in a big improvement that 66% of material cost, and 75% of lead time.