Accessible Design Packaging Award
"Minodronic Acid Tablet 50 mg 'Sawai'"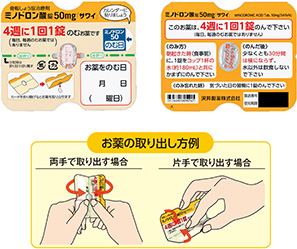 Sawai Pharmaceutical Co., Ltd.
KANAE CO., LTD.
SOGO PRINTING Co., Ltd.
We have developed a package that allows tablets to be easily taken out by even elderly people and patients who have dif culty applying pressure with their ngertips. By making the pocket part of the blister package sandwiched between cardboard into a bellows shape, the package allows tablets to be taken out by folding the cardboard and collapsing the bellows pocket. Also, reduced size of cardboard and added cutouts for ngers have improved the usability for patients with small hands when they hold it with one hand. In add i t i on, a means of disposing by separating along the folding line after folding and a calendar seal for helping with managing medication have been added.